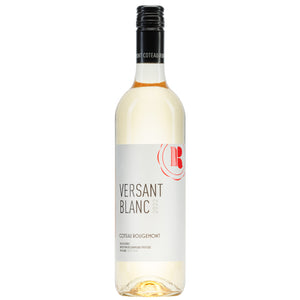 Format
750 ml
Profile

The Versant Blanc is made from parcels of vines on the south-west and south-east slopes of our estate, on schist and pebble soils offering the best of the Rougemont terroir.  
Winemaker's note
The blend of Frontenac Blanc and Vidal has a light yellow color with gray-green highlights. The nose offers aromas of pears, peaches and exotic fruits such as pineapple and mango. We also find notes of brioche and bread. The mouth presents a lively attack on freshness and citrus fruits, followed by a full and mineral mid-palate offering a nice balance.
Useful information
Winemaker
Benoit Giroussens 
Variety
Frontenac White 62% and Vidal 38
Accord
Wonderful with white meats, fish and seafood.
Service
Serve chilled between 10° and 12° C.
SAQ Code
11957051