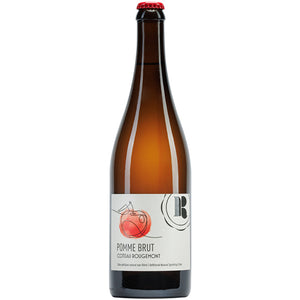 Format
750 ml

Profile
Synergy within the Farm between the different crops is at the heart of all our creations. In 2021, Coteau Rougemont's apple growers selected the best apple trees in the orchard and extracted one miniature of each. From the juice of these fruits, we have elaborated this cider like a Champagne method wine.
Note from the oenologist
Pomme Brute is a dry cider, without added sulfites. The aromas are floral and rich. The mouth blossoms between the minerality of wine and the smoothness of farm cider. Unfiltered, we wanted to capture all the substance of these quality fruits.
Useful information
Winemaker
Benoit Giroussens
Technical data
Alcohol percentage: 8 % alc./vol.
Total acidity: 4,2 g / liter
Residual sugar: 3,6 g / liter
Agreement
As an aperitif with nuts.
Service
Serve chilled between 8° and 10° C.