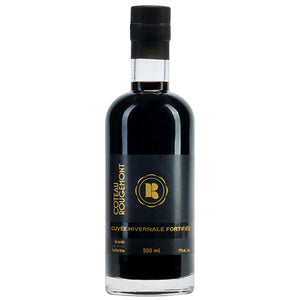 Cuvée Hivernale Fortifiée
Format
500 ml
Profile
Grown on the slopes of our estate, our grapes have been chosen to offer the best of the Rougemont terroir. 
Oenologist
's note The Cuvée hivernale fortifiée is a blend of Frontenac Noir harvested in the middle of winter to which we have added neutral alcohol during fermentation and then continue the ageing of this blend in oak barrels for 48 months. You will find aromas of blueberries and black fruits combined with a tasty blend of spices.
Technical data
Alcohol content: 17% alc./vol.

Useful information
Winemaker
Théo Voisin

Variety
Frontenac Black 
Accords
Serve with a dark chocolate dessert.
Service
Serve chilled between 8°C and 10°C.
SAQ Code
Not available at the SAQ