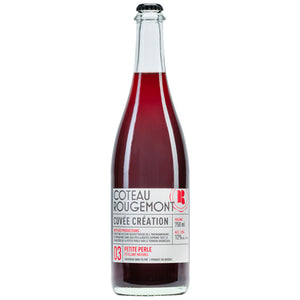 Petite Perle - Natural Sparkling
Format
750 ml
Profile
Petite Perle continues our adventure into the world of natural Quebec sparkling wines. Unfiltered and with no added sulfites, this wine comes from parcels that we farm organically.
Winemaker's note
Petite Perle is a grape variety that expresses the full amplitude of red fruit. The nose is fresh, with hints of strawberry and redcurrant and menthol. On the palate, the fruit ripens, giving us a more sophisticated aromatic experience. Blackberry, raspberry and camerise sparkle in a finish spiced with delicate notes of anise.
Technical data
Alcohol content: 12% alc./vol.

Useful information
Winemaker
Benoit Giroussens 
Variety
Petite Perle 100
Pairings
Cuvée Création Petite Perle is an ideal wine to accompany a variety of dishes, including Italian dishes, summer salads and red fruit desserts. Its authenticity also makes it an excellent choice as an aperitif.
Service
Serve chilled between 8°C and 10°C.