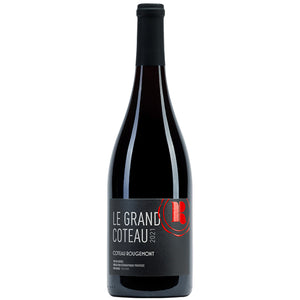 Format
750 ml
Profile
From a selection of plots on the south-western slope of our estate with pebble soils offering the best of the Rougemont terroir.
Winemaker's note
Grand Coteau 2021 is a characterful red wine made from a blend of Marquette and Frontenac grapes. On the nose, it gives off intense aromas of olive tapenade, sage and squid ink, offering a complex and refined nose. On the palate, it is generous and fruity, with notes of cocoa and spices that enrich its complexity. The tannins are supple and well-balanced, offering a silky and elegant mouthfeel. The finish is long, with notes of red fruits and spices that linger in the mouth.
Technical data
Alcohol percentage : 12,5 % alc/vol.
Residual sugar : 4,2 g /L
Total acidity : 3,88 g/L
Useful information
Winemaker
Benoit Giroussens
Varieties
Marquette 95%
Frontenac Noir 5%

Pairing
Grand Coteau 2021 is a wine of elegance and complexity. Its structure and balance make it an ideal choice to accompany a variety of dishes, including red meats, spicy dishes and cheeses. It is a wine that can also be cellared for several years, to further improve with time.
Service
Serve chilled between 14° and 16° C.
SAQ Code
12358190