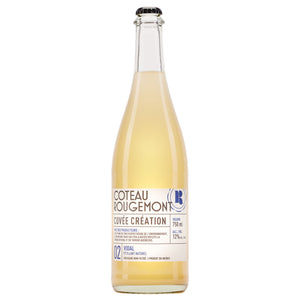 Vidal - Natural Sparkling
Format
750 ml
Profile
We present you our first natural wine, a sparkling wine that comes from the parcel la rocaille which has been worked in organic agriculture for two years. It is a wine without added sulfites.
Note from the oenologist
The nose is typical of our Coteau Rougemont terroir. We find Asian apples and pears. Light notes of acacia and walnut characteristic of the mature Vidal enhance this perfume. You will also find light notes of delicate white flowers. On the palate, a light pearlization surprises you. There is a nice balance between bitterness and acidity, all in delicacy. The end of mouth is fine, and we perceive a touch of minerality.
Useful information
Winemaker
Benoit Giroussens
Accord
Ideal for aperitifs or to accompany your summer salads or shrimp cocktail.
Service
Serve chilled between 8° and 10° C.