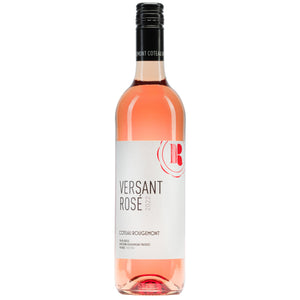 Format
750 ml
Profile
Le Versant Rosé is made from selected parcels of Frontenac Gris, Vidal and Petite Perle grapes. It is a thirst-quenching wine, frank and greedy.
Note from the oenologist
The blend offers a clear pink color. Each grape variety in the blend brings specific aromas. The grey Frontenac expresses small acidic red fruits. We find redcurrant and strawberry. The Vidal enriches the finesse of the product by adding a floral and mineral touch. The Petite Perle adds a more vinous side to the product, notably in the mouth where we find a frank and silky texture. The attack in mouth is fresh and light, to evolve towards a coating sensation.
Useful information
Winemaker
Benoit Giroussens
Accord
Sublime with red meat fish dishes (trout, salmon), pork brochettes, Mediterranean cuisine or simply as an aperitif with a few bites or tapas.
Service
Serve chilled between 10° and 12° C.
SAQ Code
12644153