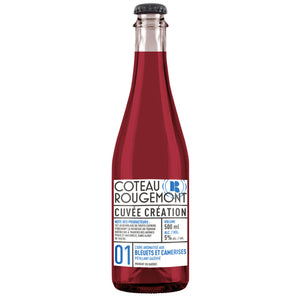 Blueberry and sweetberry honeysuckle cider
Format
500 ml

Profile
Sweetberry honeysuckle are known for their intense colour when blended with blueberries, they express themselves in a beautiful purplish colour. On the nose we find aromas of apples, sweetberry honeysuckle and blueberries as well as floral notes. On the palate, the attack is greedy with a beautiful freshness enhanced by fine bubbles. This is a very refreshing cider that conveys all the energy of the cherry. The sweetberry honeysuckle come from the Cammia orchards in Rougemont and the blueberries from Lac Saint-Jean.
Note from the oenologist
This fruit blend proudly expresses the richness of Quebec's terroir through fresh and natural aromas, without the addition of sugar.
Useful information
Pairing
Ideal as an aperitif with a platter of local charcuterie and cheeses.
Service
Serve chilled between 8° and 12° C.